Overview of Laser Surgery
Why Laser for Pets?
Laser technology (Light Amplification by the Stimulated Emission of Radiation), with its medical use dating back to the early 1960's, reduces trauma to your pet, shortens recovery, and often decreases the length of hospital stay. A laser is a device that generates an intense beam of coherent light that can cut, seal or vaporize tissue.
What Type of Procedures Can a Laser Perform?
The most widely recognized procedure among pet owners is the feline laser declaw. Additional procedures include but are not limited to spays, neuters, the removal of cysts, tumors and warts, as well as specialized internal procedures.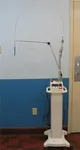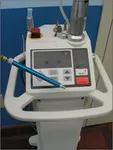 Why Should I Choose Laser Surgery for My Pet?
Reduced Pain
Reduced Bleeding
Reduced Swelling
Reduced Infection
Quicker Recovery

With the associated laser benefits, your pet should recover from surgery more quickly and with less discomfort.