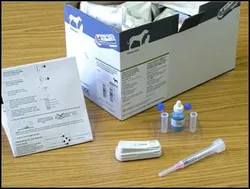 Snap 4DX Test can detect these four infections in one blood sample in less than 15 minutes.
Lyme Disease
Lyme disease is contracted when an infected deer tick bites your dog. The disease can cause lameness, fever, swollen joints, kidney failure, anorexia or generally "not himself/herself". If left untreated, Lyme disease can damage joints and in rare cases causes fatal kidney disease. It can be prevented by vaccination and treated with antibiotics.
Anaplasmosis
Anaplasmosis is also carried by deer ticks. A bite from an infected tick can infect your dog causing lethargy, high fever, swollen joints, loss of appetite, vomiting or diarrhea. Untreated anaplasmosis can cause chronic joint pain and rare neurological signs. An infection can be treated with antibiotics.
Ehrlichiosis
Ehrlichiosis is carried by the brown dog tick and a bite from an infected tick can infect your dog. Symptoms include loss of appetite, depression, fever, painful joints, bloody nose and pale gums. Permanent blindness, autoimmune diseases, bleeding complications and death can occur if untreated. Antibiotics are available for treatment.
Heartworm
Mosquitoes transfer heartworm larvae from an infected dog to your dog. Larvae develop into worms that live in the heart and its vessels. There are no symptoms at first but as the disease progresses it can cause mild, persistent cough, exercise intolerance, reduced appetite and weight loss, eventually leading to heart failure, lung disease and sudden death. Heartworm infection can be prevented with an annual negative test, followed by monthly preventatives during mosquito season.