Recipe to Remove Skunk Smell
A West Virginia road-kill skunk was dunked into a 5 gallon bucket of the following formula, bringing out comments like, "It worked like magic", and "Almost immediately the odor was gone". Remember to keep the formula out of your pet's eyes, nose and mouth.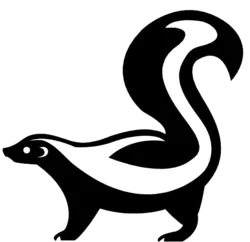 Krebaum's Formula (for pets)
Combine:
1 quart of 3% hydrogen peroxide
¼ cup of baking soda (sodium bicarbonate)
1 teaspoon of liquid soap
Apply liberally to pet avoiding eyes, nose and mouth.
Follow with a thorough tap water rinse.