Urinalysis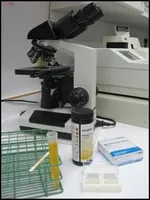 A urinalysis is a laboratory test of urine commonly referred to as a "UA." The test involves several parts. First, the urine is examined by eye for color and turbidity. Normally, canine and feline urine is clear and some shade of yellow. Red, green or brown colors or excessive cloudiness may indicate an illness. The urine is then examined microscopically. Blood cells, bacteria, epithelial cells and urinary crystals can be seen under the microscope. Chemical evaluation, also known as the dipstick test, tests for blood, glucose, ketones, pH, proteins and other parameters. Some dipsticks also include leukocytes and nitrite analysis.
A urinalysis is indicated for evaluating pets with urinary abnormalities such as increased urine production, increased urinary frequency, straining to urinate, bloody urine or abnormal color to the urine. This test can also be helpful in cases of unexplained fever, loss of appetite or weight loss. A urinalysis is often done when indicated by the results of an x-ray if results of blood tests indicate a problem with the urinary system or as a follow up to physical examination when abnormalities are detected.
Any evaluation for health or illness should include a urinalysis. Urinalysis results can give an idea of hydration and kidney function; it can also indicate inflammation or infections in the urinary tract.
Fecal Analysis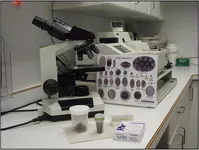 Internal parasites are diagnosed by microscopic examination of the feces for eggs that are released by the adult female in your pet's intestine. The number of eggs released in a given fecal sample can be variable. Sometimes there aren't any even though your pet has adult parasites. This means that a negative fecal analysis does not guarantee that your pet is free from internal parasites. In some cases we need to run several samples to feel comfortable that your pet is free of internal parasites. Sometimes our doctors will treat for a specific parasite, even on a negative fecal sample, when they feel there is a likelihood of infestation, because some internal parasite eggs are notoriously hard to detect. In some cases a diagnosis is made by observation of the mature parasite in your pet's feces. This is especially true for tapeworms. Tapeworm eggs are difficult to detect during microscopic fecal analysis, so observation of the actual worm is how they are routinely diagnosed.